We've all been there. Attended a conference session full of great info and tips, but the visuals, oh the visuals. It's annoying at a minimum, and soul-sucking at its worst. And imagine being the person giving that presentation!
Luckily, that will never happen to you.
Because you have a secret weapon. 
You have the Get My Graphics PowerPoint Graphics Library. 
Starting with professionally-designed PowerPoint templates makes it easy to follow PowerPoint presentation best practices like these:
Good Graphic Design

Visuals > Text

Use Presenter View
Let's talk about these PowerPoint presentation best practices in a little more detail.
Good Graphic Design
Our templates are designed by professionals, so you know your layouts are on point and using graphic design strategies like: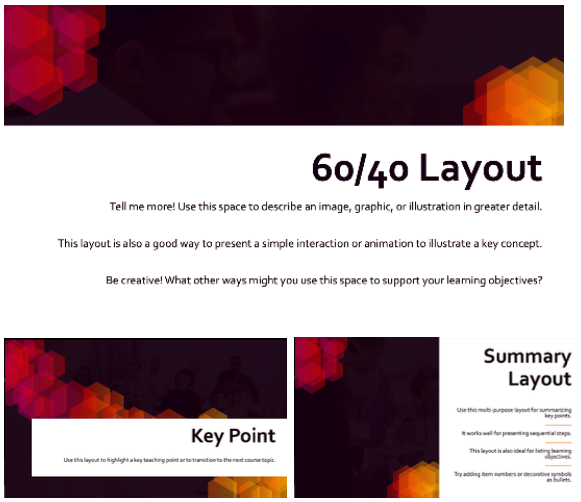 Examples of layouts from the new Philosopher PowerPoint template design
All you have to do is put your text into the provided text boxes, maybe replace a few stock images, and your slide is done!
Speaking of text, our templates come with pre-set header fonts and body fonts. This lets you move away from the default PowerPoint fonts that everyone has seen a million times, without getting sucked into the typography black hole of font pairing. Font pairing paralysis is a real thing. It's when you can't decide which fonts go together and so you never make a decision and then your presentation is doomed to boring default fonts.
Visuals > Text
Cool fonts are great, but what's even better? Using a visual instead of a long chunk of text. We've created tons of charts and graphics for you to display data and complicated processes through beautiful visuals.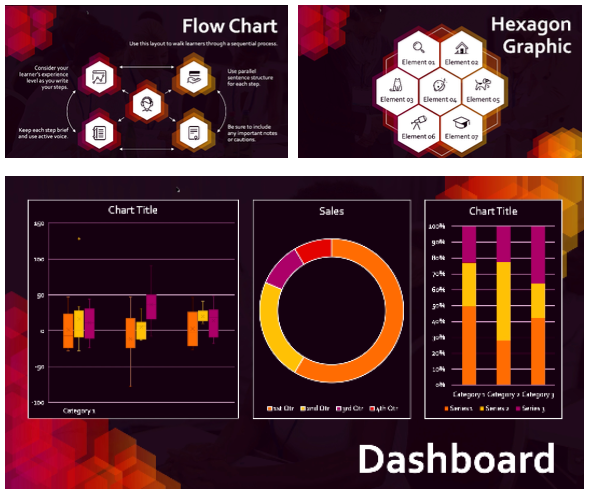 Examples of charts from the new Philosopher PowerPoint template design
Use Presenter View
Recent versions of PowerPoint include a feature called Presenter View, which can help your live presentations go much more smoothly. 
With Presenter View, you can easily view your notes on your computer while displaying a clean version of the presentation to your audience. (Because, of course, you didn't put everything you're going to say directly on the slides. You would never do that.)
Check out our article PowerPoint Presenter View Quick Tips for info on how to use the pen tool, zoom in on slides, and jump around from slide to slide.
Download tons of templates and graphics from our PowerPoint Graphics Library to make your next presentation one that deserves a standing ovation.
Not a member yet?
Sign up for a free 7-day trial to explore all the PowerPoint templates and graphics in our library.