We've recently launched a Get My Graphic Facebook page where several times a week we'll highlight a different graphic from our Get My Graphic collection and explain how you can use this image to communicate your ideas. Below is a sampling of our new graphics and suggestions for how to use them. Even if you don't need to download graphics, we hope that our site and Facebook page will spark your creativity.
Remember these graphics are fully editable in PowerPoint 2007 or higher. Plus, if you have any suggestions for new graphics, please email social@getmygraphics.com. We're always looking for new graphic types to help make presentations and marketing materials communicate better.
_____________________
A GMG user contacted us because they needed a megaphone image for their presentation. We thought that was a great idea and created a new series of icons featuring the megaphone. But we went one step further and used the megaphone as a metaphor to show the funneling of information(see our funnel graphics category). How else could you use this image to communicate your ideas?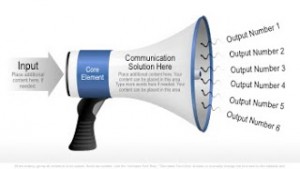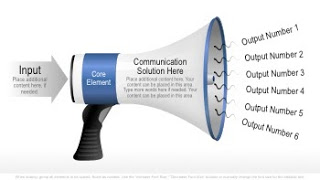 _____________________
I love using peg graphics as an alternative to puzzle graphics to show synergy or how elements relate/interconnect to one another.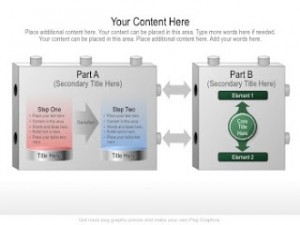 License plate graphics. Fully editable in PowerPoint. Change letters and numbers for what you want to say. Will make a visually interesting opening or ending slide especially if using a travel or driving metaphor in your presentation.